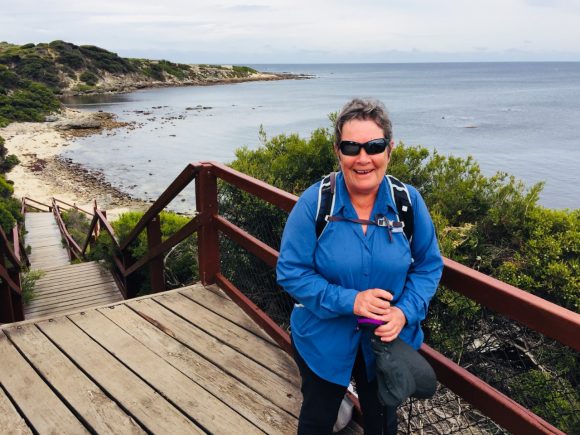 Catherine Drayton is hiking the spectacular Cape to Cape Track – and she says her week of solo bushwalking in Margaret River is "like meditation".
.
At home in New Zealand, the 60-year-old businesswoman sits on the board of six different companies, some of them well-known multi-national enterprises.
.
But she's enjoying a get away to Western Australia to tackle the spectacular 124km Cape to Cape Track on her own, finishing the 7-day hike on International Women's Day.
.
"I've loved doing it solo. It's like mediation. It's been fantastic," she says. "Lots of great, different textures. Lots of different colours. Smelling the ocean when you can't see it. Feeling the breeze on your face.
.
"And I've met some really nice people along the Track too. I would definitely do it solo again. Did I feel safe? Yes, I did, even though I was on my own."
.
The outdoors enthusiast is bushwalking in Margaret River with the assistance of Cape To Cape Explorer Tours, choosing our self-guided end-to-end option. That means walking alone but with a comfortable accommodation base in the middle of the Track at SurfPoint Resort. Plus daily track transfers. And maps, logistics and support.
.
Bushwalking in Margaret River with a comfortable bed each night
"I love coming back to SurfPoint Resort and having a hot shower and a comfortable bed every night. And it's great to just carry a light day pack each day," she says.
.
"All the staff at Cape To Cape Explorer Tours have very similar values. It's a job, yes. But you obviously love working together. You've all worked together for a long time. And you're all connected to this country. You're wedded to it. And it shows."
.
Varied terrain on the Cape to Cape Track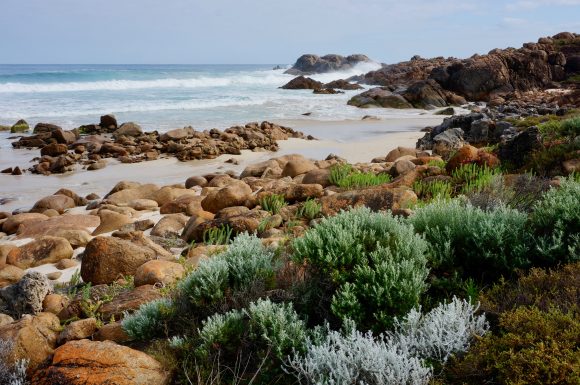 Catherine said she loves the variation in terrain across the 7-day hike. The Track encompasses ancient granite boulders and limestone ridges. Towering karri forest. White-sand beaches. And fields of wildflowers.
.
"I've loved the moments of transition between different types of bush," she says.
.
"You can go from sand to clay to rock several times a day. You can have all that within 5km. It's awesome. It's very varied."
.
She encountered a carpet python during one day on the Track. That's one of the non-venemous snakes found in the Margaret River region. But she said it was a thrilling wildlife encounter.
.
"He was across the Track. It took a bit of stamping and calling out to him to ask him to move on. And eventually he did!" she says.
.
Read Catherine's Trip Advisor review HERE.
.
Or to book your self-guided adventure on the Cape to Cape Track or to find out more information, click HERE.