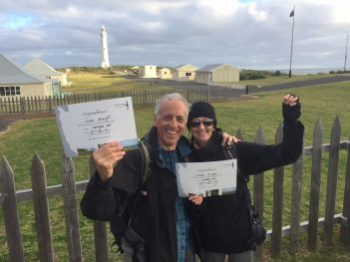 FORGET a cruise ship or packaged holiday – this high-powered Sydney couple chose to hike the 135km Cape to Cape Track to celebrate their 40th wedding anniversary.
And after completing seven days of trekking through some of the most spectacular coastal wilderness in Australia, Gordon and Michele Streight said it was "ultimate way to celebrate" four decades of marriage.
The Sydneysiders visited the Margaret River region and chose the self-guided option on the Track. Cape To Cape Explorer Tours provided accommodation, home-made meals and catering, transfers to and from the start and end of each day's hike, and local knowledge.
Cape to Cape hike
Reconnect with nature
Gordon runs his own software development company, while Michele deals with the pressures of a high level job in a major bank's chief investment office.
"Which is why it's so great to get out on the Cape to Cape and just forget all about work and be in nature," says Michele.
"We've loved it. Just loved it. The scenery and wildlife is stunning.
"Every day was different. From day one right to day seven and even in the last few kilometres, we were always seeing something different.
"I couldn't pick a favourite stretch of the track. They were all so good.
"When we reached the finishing point at Cape Leeuwin Lighthouse, I was sad we got to the end. We didn't want it to end."
Cape to Cape hike
Lifetime highlight on the Cape to Cape
They have hiked in Japan, New Zealand and around Australia. But Gordon said the Margaret River region's Cape to Cape Track would go down as a lifetime highlight.
Michele got a thrill out of spotting cowslip orchids and spider orchids along the trail. While crossing paths with a bungarra – or coastal heath monitor – was a highlight for Gordon.
Cape to Cape hike
Memorable times in Margaret River
He said Cape to Cape Explorer Tours had made for a memorable trip to Western Australia.
"To the great CCET team we've met over the last week, thank you very much for making our Cape to Cape trek such a fabulous experience. Apologies for finishing so late each day, but with so much to see and experience – and despite walking fast – we still ran late," Gordon said.
"Each day brought new delights, surprises, amazing flowers, wildlife, views and ever-changing weather. On day 7 we came across a Bobtail and right to last 100 meters, we were still experiencing new flowers not yet seen by us.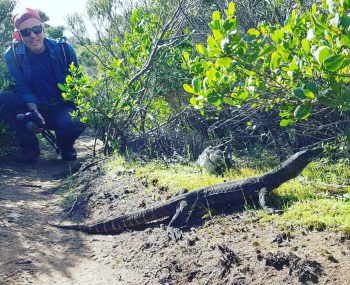 "Thank you too for the information and background each of you imparted every morning and evening. It provided context for what we were seeing.
"And a big thank you for the great food and catering. Very yummy!
"The last week has been a great start to our 40th Anniversary celebrations!"