We're thrilled to be part of an amazing initiative that's raised $80,000 for charity thanks to hikers trekking the Cape to Cape Track.
Cape To Cape Explorer Tours is about to say goodbye to an inspiring group of ladies who hiked the entire 135km length of the track with us.
It is the third annual hike organised by the WA non-profit group Move For Mental Health (M4MH).
That means in the past three years, 36 M4MH hikers covered 540km, raising more than $80,000.
The hike on the Cape to Cape Track is designed to raise awareness about the power of movement. Exercise. And the great outdoors as a coping strategy for mental health conditions.
And every cent goes to support the incredible work of The Gidget Foundation. It's an action-driven not-for-profit supporting new and expecting parents in rural and remote areas across Australia.
The inspiring story behind M4MH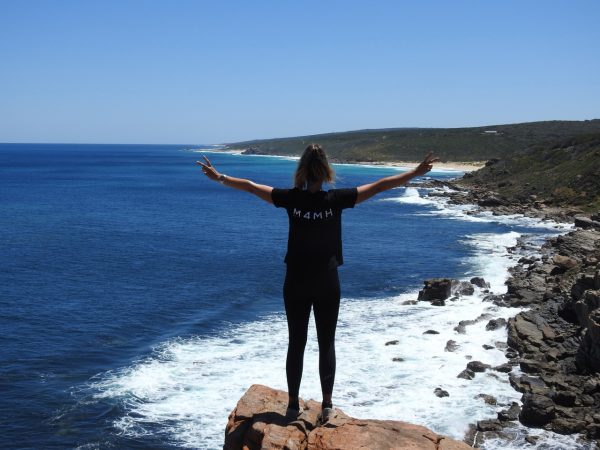 The inspiring West Australian woman behind the fundraising drive is Kylianne Farrell. She founded M4MH while living with mental illness as a teenager. But she discovered that exercise and the outdoors played a huge role in her continuing recovery journey.
"I wanted to gift others with opportunities to explore what role movement can play in boosting mental wellbeing," Kylianne says.
"So I weaved in connection, challenge and the outdoors through the M4MH Cape to Cape Group Hikes in collaboration with Cape to Cape Explorer Tours.
"What unraveled over the next three years since the first group hit the track in 2017 was unexpected.
"It turned from an initiative into a conversation. A conversation that has on many occasions saved lives.
"Those who were first brave enough to stand up and share their stories of struggles and triumphs paved the way for others to feel as though they could do it too. Whether they hiked alongside M4MH or not."
She says the current Cape to Cape Track hike is another inspiring journey.
"The team charged day in and day out. They're continuing the legacy that the first hiking team started," Kylianne says.
"Bonds are being formed. Stories shared. And challenges overcome."
Cape to Cape Track starts the conversation
The conversation continues on a national level as awareness of how exercise can positively benefit mental wellbeing grows.
Kylianne is also educating on this topic in the fitness industry. And sharing her story around the country to create change.
Meanwhile, M4MH continues to raise funds for The Gidget Foundation.
"Suicide is the leading cause of maternal death. And one in five mothers and one in 10 fathers suffer post natal depression and anxiety. It's vital that their work continues to support our Australian parents," Kylianne says.