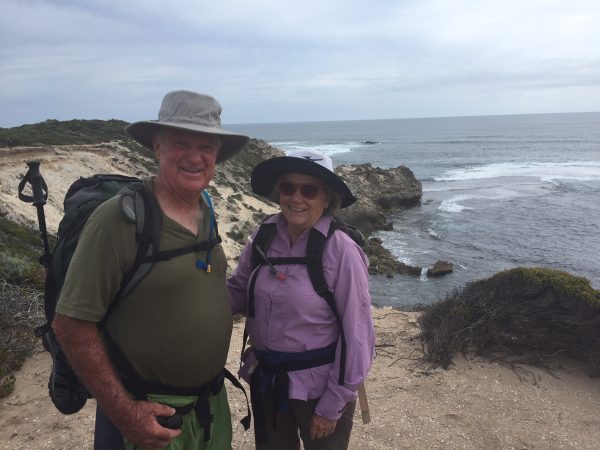 Former Australian Test cricket fast bowler Ross Duncan trekked Margaret River's spectacular Cape to Cape Track this week.
And he said he was bowled over by its rugged beauty, inspiring scenery and carpets of wildflowers.
Ross and his wife Gayle jetted into Western Australia from their home in Brisbane to tackle Margaret River's best long distance coastal hike.
They joined a seven-day guided experience with Cape To Cape Explorer Tours, which provided accomodation, daily transfers, expert local guides, and.meals and gourmet lunches on the track.
Ross is now aged 75. And he's had a double knee replacement in recent years.
But he retains a lot of the fitness of his sporting days and reckons he relished the challenge of hiking the 135km track from end to end.
Ross on the Cape to Cape Track
"I really loved the Cape to Cape Track. It's been excellent," he said.
"I've been to WA quite a few times but never down to Margaret River. It's been really interesting.
"You've got this coastal scenery which is beautiful. And the wildflowers, I wasn't expecting that. They're glorious.
"The wines around here are pretty good too!"
Cricket love becomes hankering for hiking
The cricketer played for Queensland from 1964-65 to 1970-71, then for Victoria in 1971-72 and 1972-73.
But a heel injury cut short Ross' international career. He played one Test for Australia in 1971 after being brought in as a fast-medium seam bowler.
Amazingly, he was replaced in the following Test by Dennis Lillee, who went on to be one of the nation's cricketing greats.
Ross also represented Australia in 1971-72 when the national team played a Rest of the World XI side.
But now his cricketing days are well and truly behind him, Ross said he was keen to do more hiking.
"Gayle and I really enjoyed this one. And we'll probably do another hike next year," he said.
"I've got to hand it to you. Cape To Cape Explorer Tours do a great job. We've loved it."