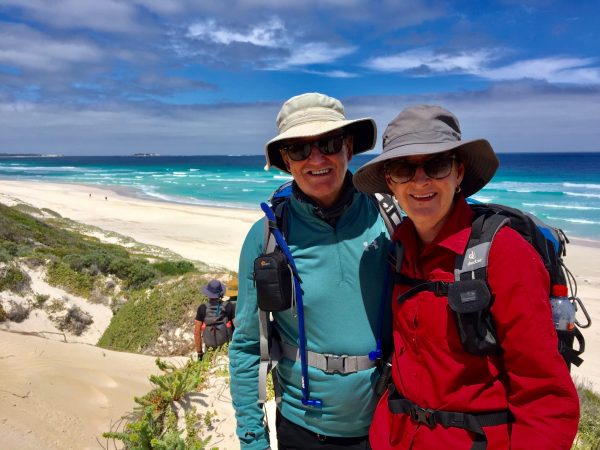 Hiking in Margaret River is the ultimate way to celebrate a wedding anniversary.
That's according to New South Wales couple Barry and Deira Robertson, who joined six friends to hike Margaret River's epic Cape to Cape Track.
And on the sixth day of their seven-day guided adventure with Cape To Cape Explorer Tours, they celebrated 49 years since tying the knot.
"It was a great day and a great way to celebrate – much better than just going out to dinner or having a party," says Deidra.
Barry added: "We love the outdoors and getting a good nature fix, so what else would you want to do on a day like this?"
A true romantic, Barry even piggy-backed Deidra across a creek so she wouldn't get wet feet!
They don't mind "roughing it" in nature either. Barry and Deidra and their friends opted for Cape To Cape Explorer Tours' glamping accomodation option. That meant sleeping in a tent under the night sky (though still on a comfortable queen mattress!).
Hiking high on the to-do list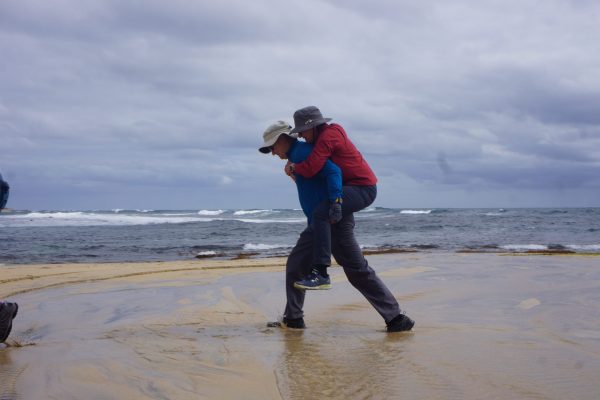 The pair are from Avoca near Sydney. They're retired after successfully running car dealerships. And now, hiking is high on the to-do list.
"We go somewhere to hike every year with the same friends. It's good fun. Hiking in Margaret River has definitely been one of the best trips. We've all really enjoyed it," says Barry.
The group chose a seven-day, fully guided, end-to-end experience on the Cape to Cape Track. That includes a daily pick-up and drop-off service, which means hikers only need to carry a day pack each day.
The track is the number one route when  it comes to hiking in Margaret River. It spans 135km from Cape Naturaliste to Cape Leeuwin in the southwest corner of Western Australia. And it boasts rugged coastal scenery, gorgeous white-sand beaches, a wealth of wildlife, pristine forest and a rich mix of indigenous and European history.
For Barry and Deidra, it means topping their 49th wedding anniversary will be hard to beat.
But Barry says he's already working on a plan for next year's 50th.
We're sure it'll be a ripper!