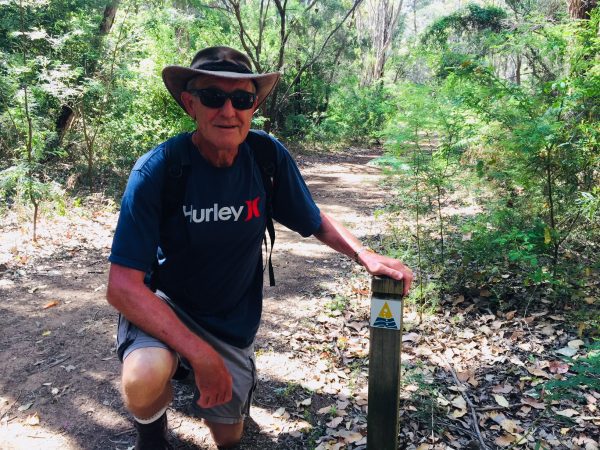 A West Australian historian is retracing the past by hiking solo on Margaret River's Cape to Cape walk.
Ron Chapman has wanted to hike the 135km Cape to Cape Track since researching and recording the oral histories of West Australian timber towns.
This week, the former Australian Navy officer turned historian is fulfilling a dream and taking on the track solo.
But he's enlisted Cape To Cape Explorer Tours for track transfers, home-made dinners and trail lunches, and accommodation at SurfPoint Resort.
Ron is 73 and a regular bushwalker. And he says the hiking has been challenging but rewarding.
"The diversity of the walk has been really impressive," he says.
"You have challenges on different levels. You've got the beach trekking, which is hard. But you can't rush it. You've got to go with it. Just a step at a time.
"Then there's some scrambling over boulders. I've loved that as well.
"And then I was very impressed with the forest. There are some beautiful sections through the karri forest. You've got lots of shade and a nice gentle breeze."
History and wildlife on Cape to Cape walk
Ron has also been intrigued by Margaret River's timber and logging history. The Cape to Cape walk traverses Boranup Forest, where from 1870 huge swathes of karri trees were logged and shipped overseas.
He's also been impressed by the wildlife encounters on the Cape to Cape walk.
"Yesterday I saw something ahead of me on the track. It turned out to be an emu with a few chicks. And that was quite remarkable. Quite interesting," he says.
"Plus I had a wildlife encounter that I didn't really want. For some reason magpies seem to like me. I got swooped a few times but I found the answer to that is grab an old tree branch or whatever you can find and wave it around your head."
A helping hand on the Cape to Cape walk
Teaming up with Cape To Cape Explorer Tours has "worked very well", says Ron.
"I've done the camping stuff before but now I want a nice comfy bed each night. Getting dropped off each morning means I can take it in stages and return to the accomodation each night," he says.
"I'm used to hiking solo. I did the Overland Track in Tasmania solo a few years ago. That was a great experience and I'm really enjoying this one too.
"I didn't really expect the diversity of terrain. It's a good mixture. And it's a good mileage each day. You can tell you've done a decent walk but you're not exhausted, just satisfied."
Ron's latest project as a historian is recording oral accounts from long-time residents in Jarrahdale, south-east of Perth.
And he hasn't ruled out a return visit to the Cape to Cape walk.
"You can never say never. I have been very impressed with the walk itself, and the organisation of Cape To Cape Explorer Tours. It's been brilliant. The staff have been amazing," he says.
Ron did get one surprise though. While our freshly prepared dinners are usually cooked and need only reheating, one supplied dinner involved cooking a fillet of fish back at SurfPoint Resort's guest kitchen. It was the first meal Ron had ever cooked himself.
"My wife knows I'm not a cook. I can do a boiled egg. Toast. That's about it. But I cooked the fish and it was a good experience!" he says.
Good work Ron!
Cape To Cape Explorer Tours run fully guided experiences on the Cape to Cape Track. Or, for self-guided hikers like Ron, we can help with transfers, logistics and accomodation. For more information, click HERE.