It was a melding of cultures when Aboriginal elder Bill Webb met students from the Chinese International School in Margaret River this week.
The 18 high school students aged 15-16 and three teaching staff joined Cape To Cape Explorer Tours to hike the 135km length of the Margaret River region's stunning Cape to Cape Track.
It's a world away from their normal lives in Hong Kong.
But the enthusiastic international students relished Margaret River's wild landscapes, rugged beauty, fresh air and open spaces. Not to mention the swag of adventure activities on offer!
Surfing, caves and kayaks
Aside from hiking the epic Cape To Cape Track, the international students have spent the week learning to surf. They also kayaked on the Margaret River. And were wowed by the impressive stalactites and stalagmites of Giants Cave.
While they've been blown away by the epic nature and pristine beauty of the region, for many of the students a standout highlight was meeting Bill Webb and hearing the stories of this renowned Aboriginal elder, who hails from the local Wadandi people.
Bill gave the students a traditional Welcome to Country greeting and ceremony. And he said he was very pleased to be ale to share his story and a taste of Aboriginal culture with visitors from so far away.
Chinese International School librarian and camp leader Sam Anderson said the Margaret River visit had amazed, challenged and de-stressed the students.
"It's been excellent. To be immersed in this fresh air and the crispness of Margaret River. They're enjoying it for sure," says Sam.
"The kids have responded so well to the guides, and the guides are experts. For the kids, the highlights are the opportunity to learn to surf and to kayak, and to go down a cave. None have ever surfed, so that's something special for them. The excitement has really been building through the week. It's 100 per cent satisfaction."
Cultural highlights hit the mark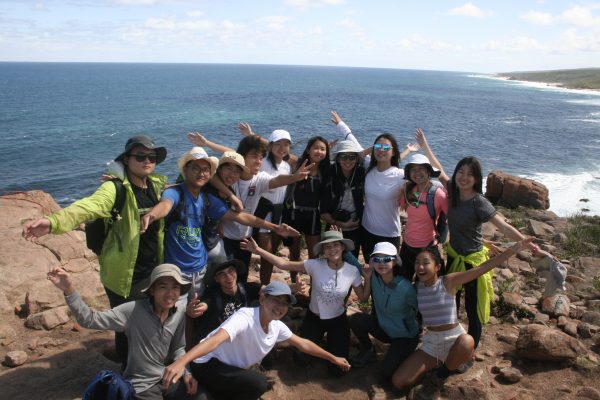 The students and teachers are staying at SurfPoint Resort, which is a stone's throw from the superb beaches at Prevelly. The resort is the ideal base for hiking groups and school groups. That's thanks to it's comfortable rooms, large capacity, and cosy common area warmed by a fire – perfect for sharing stories from the day's adventures
"Staying at SurfPoint Resort has been excellent," says Sam. "It's a great place to stay and the food has been phenomenal. You definitely don't go hungry on this trip!"
While the international students had "a few blisters" from hiking about 20km a day, he said the experience was character building.
"It's about resilience. A lot of the experiences they have about resilience are more academically based… but the stresses here are physical. It's about turning off the other stuff. That's the real benefit.
"We came last year and I think this is a trip we need to do every year. We can't wait to come back."