Kylianne Farrell is the passionate and inspiring director of The Movement Room and driver of the #moveformentalhealth hike. From November 12th-19th 2017, 11 incredible women joined us to hike from Cape Naturaliste to Cape Leeuwin over 7 days in support of the Gidget Foundation.
Kylianne's mission for her business 'The Movement Room' is to offer her clients Integrated Movement Counselling. She provides women with emotional and physical support by using the power of movement as an active coping strategy against mental illness and emotional struggles.
After approaching Cape to Cape Explorer Tours in August to organise the trip, Kylianne recruited another 10 inspiring women and together, they have so far managed to raise $33,920.68 for the Gidget Foundation's Start Talking campaign. The Gidget Foundation is a not for profit organisation supporting the emotional wellbeing of new parents and their families. The Gidget Foundation also provide education and awareness programs for health professionals and the community to learn more about Perinatal Anxiety and Depression. The Start Talking campaign aims to offer telehealth service for men and women in rural, remote and indigenous communities affected by perinatal health disorders. These women have managed to raise enough money to support almost 34 families with this service for an entire year!
Cape to Cape Explorer Tours is humbled to host these women on their incredible journey and proud to support The Gidget Foundation. If you are looking to raise money for a cause close to your heart whilst reconnecting with nature and challenging yourself both mentally and physically, we would love to hear from you. Cape to Cape Explorer Tours is an award-winning, local company, we support the Track and our community. Our guides and staff all live in the area, are professionally trained and have an intimate knowledge of the Track and the Margaret River region, not to mention a passion for walking and people.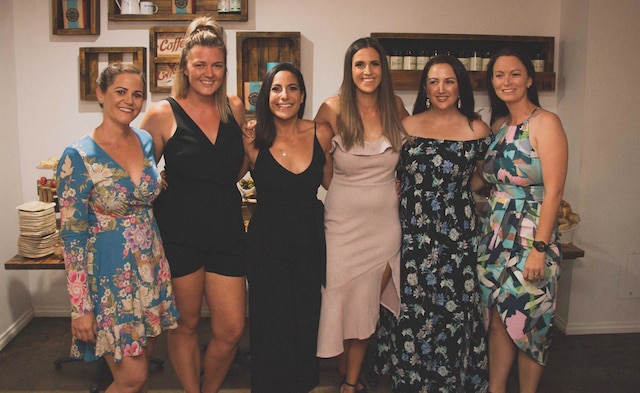 Seven days of back-to-back full day hiking on the Cape to Cape Track is challenging on many levels. The week these women hiked coincided with Perinatal Depression and Anxiety Awareness Week. "Raising awareness will allow those who are struggling in silence to have permission and courage to speak up and seek help so they can start their road to recovery" Kylianne said after feeling the nostalgia of completing her first day on the Track. Throughout the week, three of these new mothers were expressing milk on the Track! What absolutely legends! Hiking alone can be challenging but adding this extra dimension to the walk is truly inspiring. "Hiking and expressing - It's a total mission, thanks to Laura for being my expressing partner in crime." Kylianne said after a tough day out on the Track.
After their incredible achievement, these ladies spent their final night in Margaret River sharing why each of the ladies chose to participate in the hike and what they had learnt. "I have never experienced gratitude like I have over the past 6 months but more so in the last week than ever before. The deepest kind that can be felt where I have been bought to tears…a lot", Kylianne said, reflecting on the experience. "For myself I hiked and made the opportunity to others to give a voice to those who's stories are still yet to be heard and shared, I hiked for those who like me have been diagnosed with physical injuries and dysfunctions and mental illness, that feel that because of those things they feel a shadow of who they once were".