Movement, play, adventure and exploration can have incredible benefits for our mental health.
That's the message from Cape To Cape Explorer Tours founder and managing director Gene Hardy. He penned these inspiring words for the group Movement For Mental Health.
Gene loves surfing bone-crunching waves around Margaret River and trekking through the epic vistas offered by the Cape to Cape Track.
Here's what he wrote to the members of Move For Mental Health. The group aims to spark interest, ideas and inspiration in how 'exercise' can be outside of the box far beyond the four walls of a gym.
What was your adventure?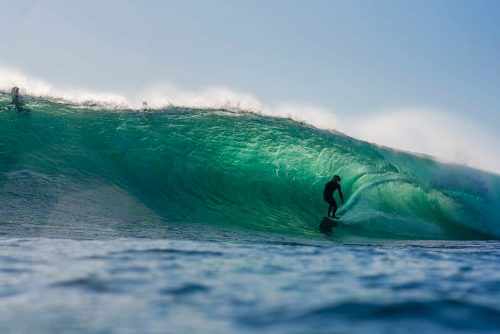 "Last week I decided to tag along and watch my 12 year old daughter surf at a high-performance surf coaching lesson, which ended up taking place at large North Point. It's one of the world's best waves located in Gracetown," Gene said
"I was in the depth of an extremely busy season coordinating my company on the Cape to Cape Track. And, had it not been for the lesson, I would have not granted myself permission to take time off work and head to the beach.
"I left the office. And at the last-minute ducked home to get my surf gear just in case and threw my big barrel hunting board in the car, not really knowing what the conditions were like. When I arrived, I realized that the conditions were perfect and the crowd had just exited the water.
"I had been feeling very anxious and stressed over the past few weeks with the amount of work that we were undertaking. But once I started paddling out all of this just instantly melted away. I got in the line-up and over the next hour paddled into some of the best waves of my life at North Point. Triple over-head elevator drops and thick spitting tubes were the norm, with multiple photographers capturing some of these waves.
"My daughter also really enjoyed the session and we really bonded in the car ride home that evening, laughing and reliving our best rides."
What made you feel called to experience this activity?
"I have always loved the ocean and all of the recreational, social and physical challenges it presents.
"Surfing big and heavy waves is such an incredible feeling. And riding these types of waves is like being in slow motion. Your whole mind is completely clear from any other distractions. And you just go into this euphoric survival mode.
"When you pull off from making a wave that pushed you to your limit, where you thought you had no hope, your whole body just pulses with adrenalin."
What did you learn about yourself in your journey?
"I learnt that I must continue to seek out these experiences, even when I 'don't have time'.
"I remembered that the act of challenging yourself in the extremes of nature is so effective at clearing the stress hormones, relaxing the mind and reinvigorating the senses.
"I was so much motivated for days after this session."
What boxes would it tick and why?
"Connection to self, nature and/or others – Surfing always leaves me in awe of nature and connects me to a likeminded tribe.
"Increased self-confidence, esteem or acceptance – Facing my fears in giant and heavy waves. And getting through life threatening experiences makes me feel like anything is possible, helping my family and friends face and conquer their fears in the ocean gives me equal or even greater pleasure.
"A sense of meaning, hope and/or purpose – Surfing gives me purpose for my life. I'm always looking to that next surf at my local beach, trip up north or international exploration. The future is always so exciting!
"Improved mood – Surfing and any physical activity for me is a total game changer. I feel like I change gears once my heart gets going and the blood pumping. Without it I am in a half awake drowsy state, productivity and motivation increases with activity and movement.
"Reduced stress and/or symptoms of mental health problems – Surfing is not just an escape. It is, like all physical activity, an answer. It allows the subconscious mind to unwind, relax and come up with fresh and creative solutions.
What are your adventure essentials when exploring new places?
"Surfboards, hiking shoes, my family and an open mind!"
What advice would you give?
"It would definitely be that movement, adventure, play and nature shouldn't just happen on holidays, it needs to happen EVERY DAY;)!!!"
Our Surf, Hike and Glamping Experience
If you want to tackle Margaret River's waves or learn to surf at our beginner beaches, Cape To Cape Explorer Tours have just launched a new six-day, five-night Surf, Hike and Glamping Experience.
Movement for mental health. Movement for mental health. Movement for mental health. Movement for mental health. Movement for mental health.