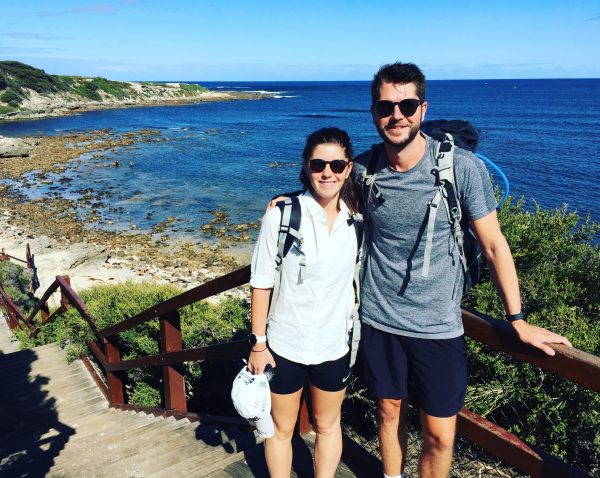 Talk about the ultimate Margaret River honeymoon – hiking the spectacular Cape to Cape Track and then finishing it off with a luxury stay at a five-star resort.
That's how Perth couple Tom and Nicole Stephens chose to celebrate their wedding as part of a summer action holiday adventure.
First they spent a week road tripping from Perth to the epic beaches of Esperance and Denmark, on Western Australia's south coast.
Then they made a bee-line for Margaret River, located three hours drive south of Perth.
The couple tackled the 124km Cape to Cape Track, traversing some of the state's most spectacular coastal scenery.
"Day 2 heading into Gracetown was a highlight for me. The views and the granite itself was just spectacular. So beautiful! The colours in the granite were stunning," said Nicole, 29, who works as an oncology nurse.
For 30-year-old Tom – who works in construction management – the highlight was the clifftop section of the Track overlooking picture-perfect Conto Beach.
"That was just unreal," he said. "Every 5 metres you say, 'That's the photo'. Then you walk another 10 metres and say, 'Oh no, that's the spot for the best photo'.
Nicole said the wildlife encounters were also special.
"One day we saw dolphins at Smiths Beach. Then we saw a huge heath monitor the next day. That was insane, it was massive.
"And we saw the stingrays at Hamelin Bay. They were very cool."
Margaret River honeymoon with hiking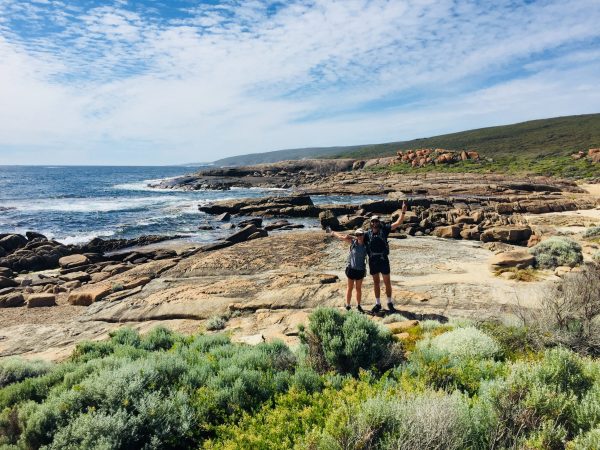 The couple were married last year but said they hadn't found time for a honeymoon – until now.
"We had two weeks to ourselves over Christmas so this trip was a honeymoon and one-year-anniversary combined," Nicole said.
"We started with Experience and Denmark, going to some lovely beaches and doing some shorter walks.
"Then we had six days on the Cape to Cape Track, which has been awesome."
Tom said a luxury resort stay was the perfect way to cap off the Margaret River honeymoon.
"Now we're lucky enough to finish it off with a couple of nights at Pullman Bunker Bay Resort near Dunsborough to relax and do nothing," he said.
"It's been a great trip. We wanted to do something active. A bit different.
"We don't have the time for much hiking at home. But this has been great. It's definitely something we're going to do more of in the future.
"We've got some incredible photos and stories. Your honeymoon is one of those key moments in life you look back on. In years to come people will ask what we did. And we'll be able to tell them we hiked the Cape to Cape Track together."
Walking the Cape to Cape in summer
Most hikers tackle the Cape to Cape Track in spring when the wildflowers are blooming. Or autumn when the weather is milder.
But Tom and Nicole said they loved doing it in summer.
"We knew it was going to be warm. But it was just great to be able to stop and have a swim every day. I would definitely recommend doing it in summer," said Tom.
Nicole added: "There's always a sea breeze so it keeps you cool. As long as you're prepared with enough water and sunscreen, it's fine.
"And we hardly saw anyone on the Track. We really felt like we had the Track to ourselves."
No hassles with Cape To Cape Explorer Tours
They said enlisting Cape To Cape Explorer Tours to provide accomodation, track transfers, meals and catering, and support and logistics was a good move.
"It means you don't have to think about anything else. You can just enjoy it," Tom said.
"You have a lot of time to think out there, which has got to be good for you."
Nicole added: "The food and catering is incredible. It's really tasty and generous. Good quality. Nutritious. We loved it.
"And our drivers every morning and afternoon were really friendly and knowledgable. Hearing everyone's stories and knowledge, particularly about the indigenous culture, really opened our eyes," she said.
Cape To Cape Explorer Tours run self-guided adventures like Tom and Nicole's all year round. Or guided experiences during spring and autumn. For more information or to book, click HERE.