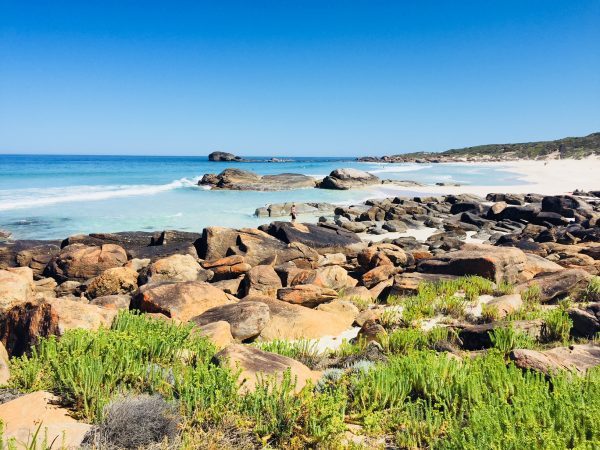 Many people hike the Cape to Cape Track but few capture the experience so well in writing.
Wordsmith and outdoor enthusiast Micaela Elphick hiked Margaret River's epic 135km hike with logistics, track tranfsers and support from Cape to Cape Explorer Tours.
And she blogged about the experience as she went in a brilliantly written and entertaining series that you can read in full here.
We loved her final post that wonderfully captures the feeling of reaching the finishing line at Cape Leeuwin Lighthouse after a week of intimate contact with the Cape to Cape Track.
"And just like that – another relationship over," Micaela writes.
"I'd gazed at you with awe and admiration, madly infatuated with your physical beauty. I'd been entranced by your wildness, the unpredictable nature of your moods. One moment warm and gentle, harsh and cold the next.
"Our time together was brief but intense. You showed me glimpses of your fury. Sometimes you scared me. But most of the time, when it was just you and me – you surrounded me with warmth and shone your light into my soul.
"You allowed me to look to the horizon and dream of what lay beyond and then you brought me back to the truth that I must take care with every footprint I make to avoid taking the wrong path."
A wrap on the Cape to Cape Track
"And that my friends is a wrap – for me and the West Australian coastline," Micaela continues.
"For now anyway. 'It's not you, it's me'. I have to leave. I have another life, other responsibilities. Of course I want to stay. You have held my heart in your vast embrace and I will be forever grateful.
"And what a magnificent final day we had. You were in one of your somewhat brooding and overcast moods this morning. I wasn't bothered. I knew it would pass. Within a couple of hours it had.
"By the time we'd passed the sculptured limestone of White Cliff Point you were already beginning to lighten up. You showed me an unassuming piece of red rock on the sand. I picked it up and held it, marvelling that something that looked so solid could feel so light.
"By Cape Hamelin you were playful and sunny, although still intense. Rounding the rich red rocks I was crazy with love for you.
Firm footing on fickle Deepdene
"You were kind to me all the way along the long Deepdene beach. I knew you could be fickle here. You have a reputation. You could have made it hard going with a sloping soft sandy trudge into a stormy gale – but today with a flourish you laid out a firm flat floor for me and just enough headwind to keep the overly clingy flies away.
"I was having so much fun that even the climb through the dunes to the cliffs was effortless. I looked to the south and could see the lighthouse on the Cape – our final destination. A colonnade of daisies stood to attention, saluting this final stride to the finish line.
"I called a cab – 4 o'clock at the lighthouse. That was it – the time of our separation was set in stone."
One final march on the Cape to Cape Track
"It was 3.45 when I burst through the doors of the lighthouse entry gift shop and cafe. I had one final march to make – up the hill to the lighthouse proper, a solid white chaperone of the spot where the Indian and Southern Oceans brush each other's sides under its vigilant gaze.
"I touched the lighthouse and with that betrayal it was over. I turned and left you and didn't look back.
"In the taxi I regretted not giving us more time for goodbyes. But what more was there to be said? We'd had our time together. It was beautiful but it was always going to be finite.
'"And as as I left I realised what I already knew but hadn't let myself acknowledge. You will have many more lovers. In truth I know already I'm not the only one – but for this past 10 days you made me feel like I was.
"And that's all that matters. Adieu."