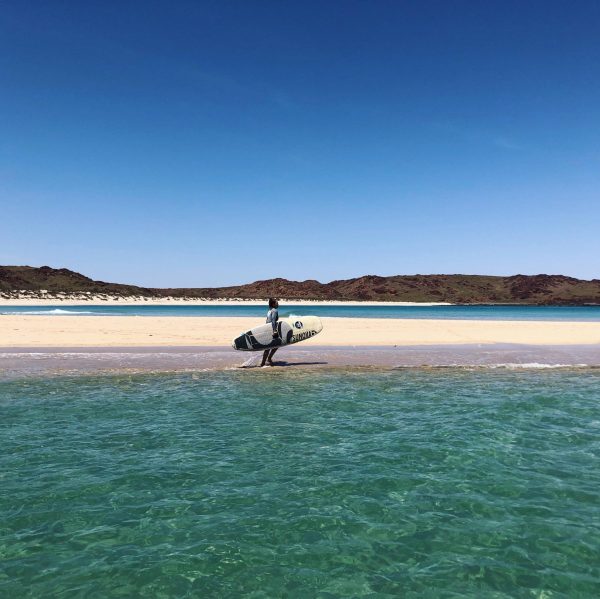 Inspiring West Australian Kylianne Farrell will learn to surf in Margaret River this summer.
And the founder of the not-for-profit group Move For Mental Health is hosting a Surf, Hike and Glamping retreat with local hiking experts Cape To Cape Explorer Tours.
She believes in creating new opportunities for people to explore movement to benefit their physical and mental wellbeing. And she founded her group to raise awareness for the power of movement and nature to boost mental wellbeing.
Here, she describes her first taste of riding waves on a stand-up paddle board. And why she's coming back to learn to surf in Margaret River during our February 2020 retreat.
Kylianne says:
"Moods can be transformed simply from the sounds of crashing waves. Stress and problems wash over us as we immerse ourselves in the calm or foamy water of the ocean. Spirits can be lifted watching the rolling swell beach itself onto the sand.
"The ocean in all its power seems to be the big blue salty therapist to many people here in the South West of Western Australia.
"Growing up in the South West region, I lived near the ocean. But I was too fearful of her sheer power. And the unknowns of what could happen if I ventured too deep.
"Always jealous of the stoke that the frothers of the surf had, as I sat countless times watching them glide on a board. I never learnt to ride a wave."
Taking life back from the darkness
Kylianne continues: "I was a girl who spent most of her early and adulthood years fighting a debilitating mental illness for survival.
"After having children tired of missing out on living, the time came to take life back from the darkness.  Dragging it into the light. It is no easy feat. But help was always within reach.
"That help arrived for me in the form of Jac Nicholls. She's a salty sister of the North and she introduced me to stand up paddling. Board and paddle in hand, there were many early morning one on one coaching sessions. And big lessons on the water.
"The more that was learnt, slowly the fear instead turned to respect. And connection of the big blue space that hugs the coast of our sunburnt mainland. Never alone in the water, I felt safe, drawing on someone else's strength until I had my own."
Kylianne continues here story: "The no's quickly became yes's as I grasped at any opportunity to get in the water by boat or board, chasing the stoked life," she says.
"The first time I rode a wave, the fear was closely followed by a rush of adrenaline. As I stood up, as an unskillful rookie, I got a taste of what I had been missing this whole time I had been sitting on the sidelines.
"Finally I felt I took back some control. Immersed in the sensory experience, really everything else for that moment melted away. The power of the water pushing me forwards. The sound of the crashing wave under my feet. Finding a moment of peace and balance as it came together. Wiping out and emerging as the wave passed over me with a smile on my face."
The chase for the rush
"The chase for the rush had me paddling back out as fast as I could get back onto my board," Kylianne goes on.
"Exhausted after my first session, I felt proud mainly of my determination. The skill and technique left a lot to be desired. But I hear from more experienced surfers that's the beauty – there is skill and technique to master.
"I have since learnt that movement on the ocean is the gift that keeps on giving.
"Endless life lessons are served up. Seeing the body's capabilities to adapt and perform. Experiencing the expansion of the mental boundaries of the mind.
"The unravelling of years of conditioning of physical and mental limitations, even from one single session, leaves you chasing the next time you can get in or onto the ocean.
"Sometimes opportunities need to be presented so that we can explore what we are capable of beyond our fears and limitations.
"Fears are not overcome by avoidance. They are overcome by passionate pursuit of change. Replacing the barriers that once were debilitating with experiences that reveal what is possible.
"Move For Mental Health is dedicated to providing these opportunities for people from all walks of life to explore movement in a way never thought was achievable. Immersed in the nature and ocean playgrounds of the South West, where education and connection meet to transform life as it was once known.
"Join us as we learn to surf in February 2020, with daily tastes of what else the South West region has to offer."
Learn to surf in Margaret River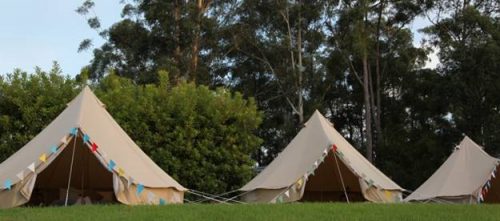 Cape To Cape Explorer Tours is teaming up with Kylianne and Move For Mental Health to offer a six-day, five-night Surf, Hike and Glamping Experience.
You'll stay in fully catered glamping at our base camp, including own glamping tent with queen size bed, hot showers and delicious meals.
We do our own catering with a focus on fresh and healthy food, using local produce and exploring the foodie delights of the region.
And the best part is you don't need to know how to surf or have any experience in the ocean. That's because we've recruited some of the most experienced surfing instructors in the region.
This epic learn to surf adventure will be led by the amazing Kylianne, who is a personal trainer, ecotherapist and counsellor.
Price and booking dates
Price: From $1275 per person (incl. GST)
Date: 18th – 23rd February 2020
Click HERE to see the full itinerary and book your spot!