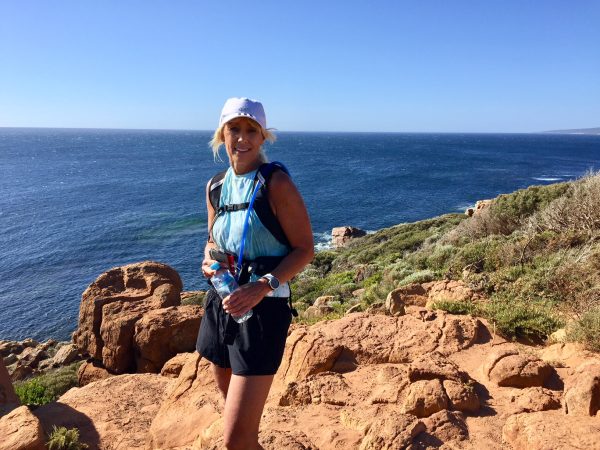 A new trail running in Margaret River experience is off to a flying start with the first athlete giving it the thumbs up.
Cape To Cape Explorer Tours has just launched a self-guided option for tackling the Margaret River region's 124km Cape to Cape Track in only three days.
The equivalent of running a marathon every day for three days,  the trail run traverses some of the Western Australia's most rugged and spectacular coastal scenery.
And Carlene Staines is the first to sign up. The New Zealander runs event management business OneNineFive and visited Western Australia on a business trip recently.
When she realised she had three free days in her schedule, she decided to attempt running the rugged coastal track with Cape To Cape Explorer Tours providing assistance, logistics, support, meals, transfers and accommodation.
Despite hot weather, the tenacious outdoors enthusiast reached the finish at Cape Leeuwin Lighthouse on Day 3. She was tired and sore. But stoked!
She'd traversed white-sand beaches. Rugged coastal granite formations. Stretches of coastal heath clipped short by the strong sea breezes. And been wowed by tall stands of beautiful karri forest incorporating one of the world's official biodiversity hotspots.
"Fresh legs on Day 1 meant that I was able to carry on past my car at Moses Rock to North Point. The last couple of kilometres were pretty challenging with a bit of cramp but overall a fantastic day on the track. I felt like I was the only person on it," she says.
"Day 2 was a nice trot to SurfPoint Resort (Carlene's accomodation and base) where I stopped for lunch and a swim. Then onto Contos.
"The beaches on Day 3 were incredible. I walked the long stretch to Hamelin Bay in the water.  So refreshing and gorgeous! And then a swim with the sting rays."
Reasons for trail running in Margaret River
Carlene said the main reason she decided to run the Cape to Cape Track was thanks to time constraints during her trip to WA. Not to mention the fact that she loves a challenge!
"It was more a time factor for me. It seemed like a good opportunity to get away and challenge myself physically," she says.
"Although I think the biggest challenge is often the mental challenge when your body is telling you to stop!
"The highlight for me was having the luxury of time to just run  and walk, and enjoy the stunning scenery.
"No thoughts of where I needed to be, what I needed to do – just a lovely feeling of freedom without deadlines."
She says the support from Cape To Cape Explorer Tours was seamless.
"I loved my time on the Cape and it was such an easy process to book. The staff were so accommodating to the option of me running the track and provided great information and options for distances," Carlene says.
"Logistics around multi day hikes or runs can often be challenging. But staying at SurfPoint and driving myself out to the track each day made things super easy and meant that I could make some early starts to avoid the heat."
Wildlife encounters while trail running in Margaret River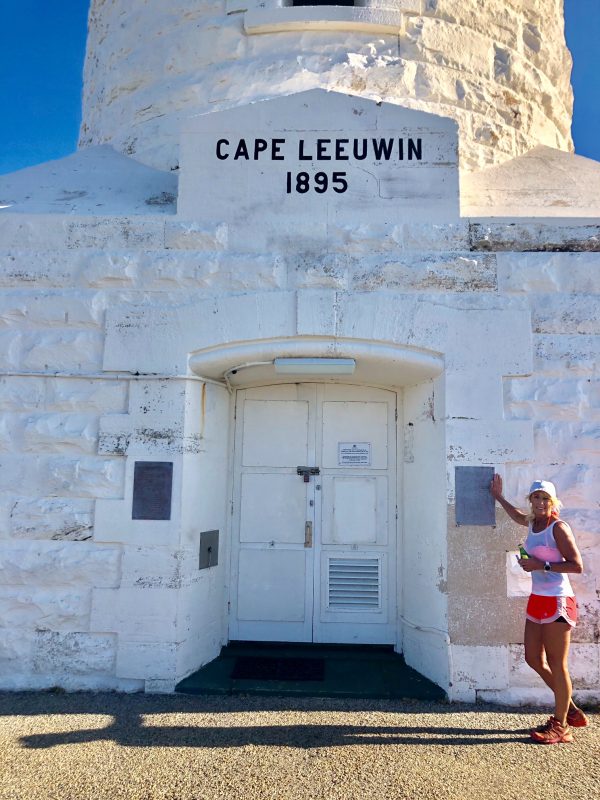 There were also some unexpected thrills.
"I was scared witless rounding a corner and colliding with a kangaroo the size of a horse, not to mention all the other prehistoric reptiles you have there," she says.
"It was great to see Cape Leeuwin Lighthouse and (CCET founder) Gene Hardy at the finish.  The tank was pretty empty at this stage!
"Overall I came out of it pretty well. No injuries, blisters or aches. Just a pleasant tiredness.
"It's also made me realise that if I actually trained, stopped drinking wine, had early nights and ate well then I could go for longer and further! Need another challenge!"
Hats off to Carlene. What an effort!
Our trail run package includes all Track transfers at the start and end of each day's run. All meals and trail lunches. Expert advice on routes, weather and safety. On-call extraction if needed. Supply of a satellite device for added safety. And 4 nights accommodation at Gnarabup in the middle of the Cape to Cape Track.
Click HERE for more details or to book your run!