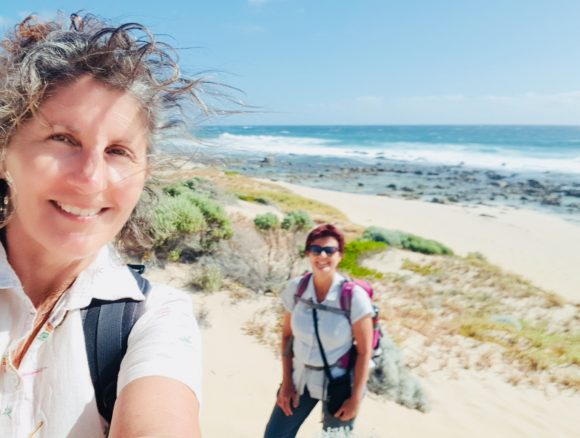 Best friends and "full moon sisters" Pam Daley and Vee Rowe just completed an amazing week of trekking in Margaret River.
The nurses, who have known each other for more than 20 years, made a pact several years ago to go on a hiking adventure every year during a full moon.
After their first trip hiking the Three Capes in Tasmania, the ladies decided to visit Western Australia to tackle the 124km Cape to Cape Track.
It's a 7-day hike covering spectacular limestone cliffs, rugged coastal paths, towering eucalyptus forest and pristine beaches in the famous Margaret River region.
And they said it didn't disappoint.
"We've found the whole thing amazing ," says Pam, 56.
"The whole place is one long magnificent view. And we've hardly seen anyone else on the Track. So it feels like we've had it all to ourselves.
"There are so many places where you come around a corner and you feel the stillness or the presence of something. I almost got goose bumps a few times. Just to be somewhere so special."
Trekking in Margaret River the best way to catch up
The pair first met working as nurses in Brisbane two decades ago. But Vee now lives in Newcastle while Pam calls the Gold Coast home.
However, they said trekking in Margaret River was the perfect way to catch up and spend time together.
"We both love the full moon so we always send each other messages on the full moon. And then we decided we'd try to do a hike each year during a full moon," says Pam.
"This Cape to Cape trip is setting the standard fairly high though. We're worried we've peaked already!"
Other highlights included taking a nude swim at a secluded rockpool, says Vee. Until she got sprung, that is!
"I'm walking down to the water and next minute there's a four-wheel-drive right there. I said, 'Hi'. And he said, 'Hi'. It was quite funny," says Vee, 54.
Self-guided trekking in Margaret River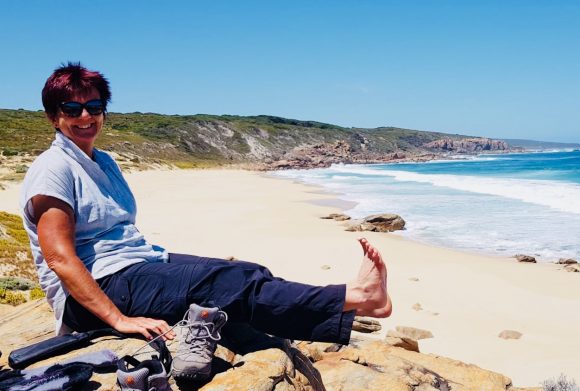 The ladies opted for Cape To Cape Explorer Tours' self-guided hiking experience. That means they hiked alone but had our support with logistics and daily track transfers, quality accommodation at SurfPoint Resort, and gourmet dinners and trail lunches.
"We'd never do this walk unsupported, but the self-guided option with the support of Cape To Cape Explorer Tours was amazing," says Pam.
"We feel like we can do it at our pace. And we don't have to overthink or overplan each day. So it ends up feeling like this delightful unending list of surprises."
Vee says speaking to our guides and drivers during the track transfers was a great way to learn more about the region and tap into their wealth of knowledge.
"I really love the animal tracks and the plants, and hearing about the stories has been a real highlight," she says.
"I loved finding out what the local people, the Wadandi, used the plants for. Of course, the scenery was amazing and that goes without saying. But hearing the stories was a real highlight.
"We've also loved the peace and serenity of staying at SurfPoint Resort. It's great to have a base camp in the middle of the Track and not having to pack up our stuff and move each day."
Pam and Vee are already planning next year's full moon hiking adventure. But they reckon it'll be hard to top the Cape to Cape Track!
Click HERE for more information about our self guided experiences. Or read more about our fully guided hiking tours HERE.