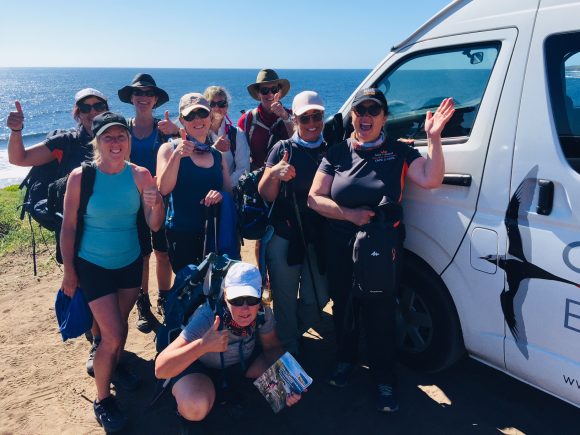 A Margaret River wellness retreat has left these ladies feeling rejuvenated and ready to tackle anything.
The group, from Sydney-based Lost And Found Wellness Adventures, are hiking the Margaret River region's Cape to Cape Track. And they're doing daily yoga sessions at SurfPoint Resort. Not to mention visiting some of Margaret River's world famous wineries – just for fun!
Kerry Martin is a therapist with 15 years experience helping people back to wellness. She founded Lost And Found Wellness Adventures and regularly takes groups for nature-based experiences around Australia and overseas.
"Wow" verdict for Cape to Cape Track
Kerry said the Cape to Cape Track has always been on her wish list. This week, the wish came true when she teamed up with Cape To Cape Explorer Tours. We provided accommodation, track transfers, logistics and support, and homemade dinners and gourmet trail lunches.
"I've wanted to get over here for years. And now that I'm here I realise it's spectacular. It's breathtaking. I've got no words for it – except 'wow'," Kerry said.
"The colours just pop. It was more than I was expecting. It's awesome. It's very visual. And it's really sensory."
Wellness in Margaret River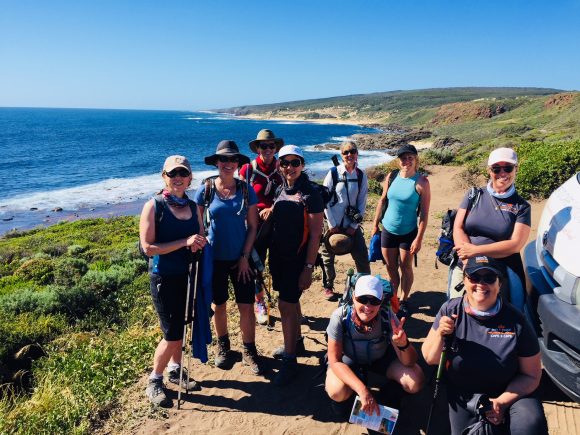 Kerry said the aim of her business is to "take people into the outdoors and immerses them in nature, incorporating health and wellness activities like mediation, yoga and stress management". This week it's meant plenty of wellness in Margaret River.
"When you're feeling stressed, you get outside, empty the bucket, have a wonderful day, get recharged," she said.
"That's what I try to do with my groups. I still can't believe I get to do this for a job!"
She said the support from Cape To Cape Explorer Tours had been "tremendous". And staying at SurfPoint Resort was the ideal base for trekking each day.
"It's great accommodation and the food has been fantastic," Kerry said.
Experts on the Track
Cape To Cape Explorer Tours specialises in guided and self-guided tours of the Cape to Cape Track. But increasingly we're working with hiking, fitness and wellness groups, such as Lost And Found.
Aside from the epic coastal scenery, abundance of wildflowers and majestic karri forests, Kerry said the wildlife on the Track was a real highlight.
"We've seen whales. We've seen lots of lizards and other reptiles. Even a few snakes!"