The students from the Margaret River Independent School are always so much fun to take out exploring on the Cape to Cape Track! These local kids spend their days learning in small classes in a beautiful bush setting about 10kms south of Margaret River. The schools vision is to provide an environment that caters for the whole child in development of lifetime learning skills as well as academic and creative excellence. This year, the year one students joined our managing director Gene for an overnight camp full of leadership and team building activities.
We are always impressed by the knowledge and respect that these children have for their local environment! These 6 and 7 year olds are often finishing our sentences when we begin talking about some of our endemic flora and fauna species. Their enthusiasm and connection with nature is inspiring.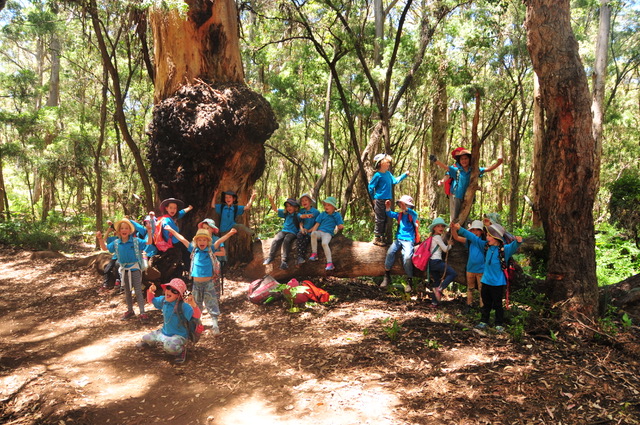 As well as walking through the bush, we worked on some of our favourite team building and leadership activities including Spiders Web and Pipeline.
The challenge was set for the children to make their way through the web of the mighty Hamelin Spider, which the kids took to quite well. Without facilitation, they formed a circle, selected a leader and formulated a plan that would see all of their classmates get safely through the web.
The kids were very impressed with themselves after the activity concluded, and rightfully so! Who would have thought that a group of 6 and 7 year olds could make such a great team!?
The class also demonstrated amazing patience and cooperation throughout their pipeline activity, which they very quickly got the hang of. Returning to the Pipeline activity throughout the walk allows the group to try and better their score that is measured by how fast they can move the ball through the pipeline with dropping it to the ground!
The camp finished with an expedition through the awe-inspiring and mighty Giants Cave! With crawling, ladders and sliding, each one of the children made it the entire way through the 500m underground labyrinth. It is always such an empowering experience to reconnect children with their natural environment. As you can see, Cape to Cape Explorer Tours love hosting camps for school and youth groups! We are more than happy to creative a package that suits the needs of your group. Check out our Schools page to find out more information or send us through an email at info@capetocapetours.com.au today!
A special thanks to Lauren Trickett for the incredible photos she took throughout the camp.