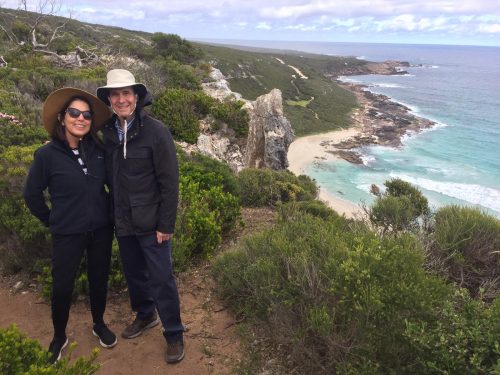 Cape To Cape Explorer Tours
' one day Cape to Vine Tour proved the best way to see Margaret River for visiting Americans John and Diana Fleeman.
Jetting in from Miami, Florida, the Fleemans wanted to experience the very best of the region in just one day.
They opted for the
Cape to Vine Tour
. It starts with a guided scenic drive and a hike on the spectacular coastal Cape to Cape Track.
It takes in rugged coastline. Rock pools. Waterfalls. Wildflowers. Wildlife. And indigenous cultural and history.
Then, it's off to award-winning winery
Vasse Felix
, where the very first grapes were planted in
Margaret River
. Now, the winery is home to some of the best wines the region has to offer.
Included in the visit is a behind-the-scenes tour of the winery and wine production.
Then, the Fleemans enjoyed a t
asting of the Vasse Felix wine collection.
That's followed by a guided tour through the original vineyards of Margaret River to discover the unique agronomy and geology that makes the
Leeuwin Naturliste ridge
a wine paradise.
Next comes a f
ive course tasting menu in the Vasse Felix Restaurant. Each dish is matched with a fine wine to complement the flavours.
Finally, the Fleemans were dropped back to their accommodation with a 
take home bottle of wine from the Vasse Felix premier range.
Cape to Vine Tour a real treat
John and Diana said the experience was "a real treat".
"We had a great day and tour. We had a wonderful time and appreciated you sharing your passion for the natural beauty of Margaret River with us," John said.
Meanwhile, Diana said she loved meeting the Vasse Felix staff and "experiencing Vasse Felix through the lens of their enthusiasm and expertise about their wine varieties and production methods".
Best of Margaret River
Cape To Cape Explorer Tours
guide Kristie Bower said the Cape to Vine Tour is a winner because it brings together two incredible elements of the Margaret River region.
"First you get out on the Cape to Cape Track and see the biodiversity, the geology, the ocean, and how the Leeuwin Current affects the climate," she said.
"Then at Vasse Felix you learn how all those things come together to make Margaret River such an amazing grape growing and wine region.
"For those who don't have much time, this is a really great way to have an in-depth experience in just one day. People absolutely love it."
How to book your tour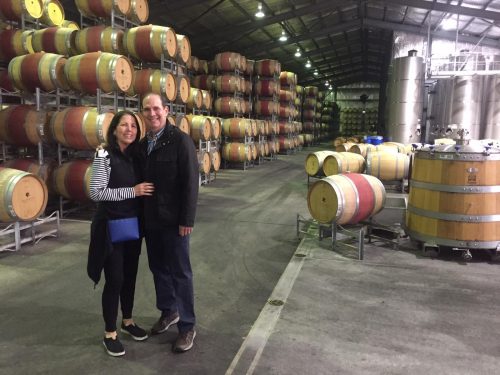 Cape to Vine Tours are available on request and can be booked Monday to Friday.
Click
HERE
for more information or to book your tour.
Prices include:
– Hotel pick-up and drop-off from the Margaret River region
– Two hour fully-guided scenic drive and walk exploring coastline, rock pools, waterfalls, wildflowers, wildlife, bush foods, and cultural history
– Vasse Felix winery tour including a behind the scenes tour of the winery and wine production
– Tasting of the Vasse Felix wine collection
– Five course tasting menu in the Vasse Felix restaurant paired perfectly with some of the region best wines
– A take home bottle of wine from the Vasse Felix Premier tier
– Guided tour through the original vineyards of Margaret River to discover the unique agronomy and geology that makes the Leeuwin Naturliste ridge a wine paradise